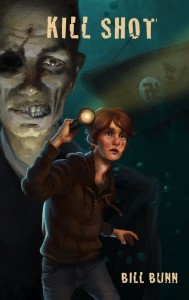 An exciting new YA adventure by the author of Duck Boy and Hymns of Home, available now in electronic and print.
Get it on Amazon
Find it on SPD Books
Purchase all e-formats from the Bitingduck Press store
The book was inspired by the 2012 sonar discovery of a vessel with the dimensions of a WWII-era German U-boat–the submarine was detected a hundred kilometers from the ocean, in the Canadian province of Labrador. More than a dozen U-boats remain unaccounted for, the fate of their crews unknown. Fully fictional, the story switches between the events of the war that led the German crew to submerge and eventually die in the river, and the adventures of a young man finding the boat over seventy years later.
Wednesday Smythe is a pimply 14-year-old high school freshman whose parents died when he was too young to remember them. Shuttling between foster care and a group home, he finds himself in a rural trailer with a hair-cutting entrepreneur for a mother and an unemployed father who pawns the foster kids' goods to pay for fancy shampoos. Without phone, Gameboy, or iPad, Wednesday is forced by boredom into long walks along the river, where the discovery occurs that will change his life.
As always, Bunn has a flair for the awkward adolescent phase of development. In Kill Shot, this takes on a remote and rural flavor, vivid and haunting. Wednesday's first friend at his new home, a girl called "Stump," has been raised by her reclusive homeschooling father with almost no social contact. She can't use a phone, but she can wield a chainsaw. Wednesday's other friend, Wally, is embittered and angry in foster care, lashing out in ways that threaten Wednesday's growing rapport with his new family. All three are drawn together in a fast-paced adventure pitting their wits against the bad guys who want the boat to stay hidden, and the cops who want to bust them for any number of nefarious deeds.
Bunn paid a visit to the town where the book is set this summer, to get a taste of "The sounds and smells, the color of the earth… Strange, to know a place you've never visited." The size of the trees, the colors of the friends and enemies' houses, the bends in the river—all are real now, bringing to life the modern characters as well as the fictional German crew that died so unexpectedly beneath a Canadian river at the beginning of WW II.
Bunn is a professor of English. Visit his author blog here.
The cover art is by Jeff Delierre.